Pulau Tioman is one of many beach resorts in Malaysia. According to the leaflets in the tourist office, it's
the perfect place for couples to spend their honey moon, or for people in the fast lane who need to slow down for a while.
Arriving
After having spent some days in Singapore, we (my colleague
Magnus
and
I
) took the bus to Mersing via Johor Bharu. From Mersing we took a small boat to Tioman Island. We left in the sunset when the tide was low.
Sleeping
March is off season, and we didn't make any arrangements in advance, (such as where to stay on Tioman). We arrived in the village Tekek on Tioman at about 11PM and were greeted by a group of young boys that had various huts to let. We spent the first night in a hut which we paid about M$20 for.
After one night in the hut we decided that it was below our standards: the matresses smelled bad, there where holes in the paper thin walls where mosquitos came in, and there were noisy hens and cocks right outside. So, we went to the Resort and got a room there. Even the cheapest room there (M$250) are high standard - big beds, TV, effective AC, mosquito-tight walls, drinkable water in the bathroom, no hens or cocks within hearing distance (the Resort is located outside the village).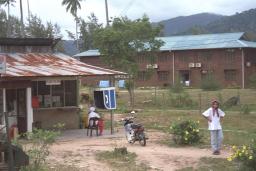 After one night at the Resort we decided that it was very nice, but perhaps a waste of money. For instance, we did not plan to watch TV. So, we went to a third place which was something in between a hut and the Resort: AC, holes in the walls, hens and cocks, no TV. Still, we spent four (I think) nights there. (M$100 per night). The photo shows the post office and, in the backround, our hotel.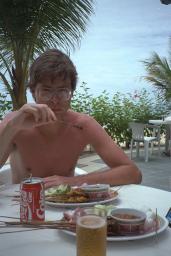 The Resort is the only place on Tioman which accepts credit cards. We ran out of cash and although the Resort is the most expencive place on Tioman, it was our only resort and we went back and spent the last day and night there.

Eating
Breakfast
Pancakes with pine apple at our hotel.
Lunch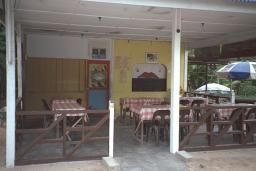 There were various small restaurants here and there. The photo shows one which was closed during daytime because of Ramadan, but we had dinner there a couple of times.
Dinner
At the Resort there was a Chineese restaurant where we had dinner several times.
Ice cream
We were told that when travelling in this part of the world it is a good idea to be careful with what you eat. You should avoid raw food, like salads, and only eat properly cooked food. We were lucky. I even ate ice cream that I bought in a small shop one day and didn't get sick.
Spending Time
Apart from sleeping and eating, we spent most of our time on:
Walking

We walked along the beach a lot. One day we helped some guys who for some strange reason couldn't wait for the tide before they had to get their boat in the water.

One day we walked across to the other side of the island.

We rented bikes one day and went as far as the narrow road took us (not very far).

Sunbathing

Be careful. You can easily get fried. The weather was hazy and some days even cloudy, but still you got fried.

Swimming.

Refreshing. One day I went snorkling. There are lots of colorful fish to watch.




Reading.

March is in the end of the monsoon season, so there were occational showers of heavy rain. Reading a good book while watching/hearing the rain was very peaceful and relaxing.


Listening

Birds and insects in a tropical place like Tioman sound very different from what you can hear in nothern Europe.

Watching
Leaving
We thought it would be boring to go back to Singapore the same way we came (by boat and bus), so we decided to fly back.
Tioman actually has a small airport where small planes can land, if the weather is good. One day, the planes all first made a trial approach, went off, came back and landed on the second approach.

So, after six days, we flew back to Singapore, spent the afternoon at one of the major tourist traps, Sentosa Island. Then we flew home to Sweden.